GdA wins the Grand Jury Price – PV Awards
PV AWARDS " THE GRAND JURY PRIZE 2014"
Paris, Première Vision
On Thursday 18th September, the panel of judges chaired by the Chinese Yiqing Yin assigned the PV Awards.
GdA was adjudged overall winner of the prize for producing the most "excellent" fabric that best symbolised and reflected the season.
As Giorgio de Angelis said at the prize-giving this fabric represented the supremacy of the idea over emulation, and of tradition and competence over digitalisation.
We wanted to see the best expression of tactile and chromatic qualities in a single natural fibre.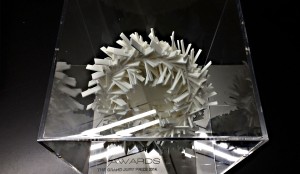 http://www.premierevision.com/en/Actus/PV-Awards/Edition-2014